Keep Your Pet's Vaccinations Current!
Vaccination Protocols
To maintain the wellness of your pet, we encourage regularly scheduled visits for preventative procedures such as vaccinations, dental care, heartworm test and examination for internal and external parasites. In the event your pet is injured or becomes ill, we have the diagnostic capability of identifying the problem as quickly and accurately as possible.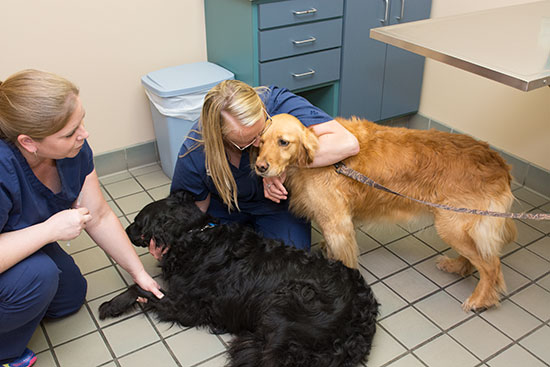 Dog Vaccines:

DHPP (Distemper/Hepatitus/Parvo/Parainfluenza) - All puppies, regardless of exposure level, are recommended to fulfill their DHPP series. Vaccine series is considered complete for most breeds after receiving an initial vaccine at approximately 7-8 weeks (even if earlier vaccines were given by breeder at 6 weeks), then boostered every 3-4 weeks so as the last 2 vaccines in the series are given at 12 weeks or older. It is recommended to have their last DHPP vaccine booster in the series at 16 weeks or later.
DHPP Combination should be boostered one year after the puppy series, and every 3 years thereafter or according to doctor assessment of risk level.
Rabies - Rabies vaccination is given at 12 weeks or older, boostered one year later, then every 3 years.
Leptospirosis - Leptosporosis (Lepto) vaccination is given to dogs that are at risk for contracting the disease base on their risk assessment. Lepto is a bacteria that may be transmitted in the urine by skunks, rodents, raccoons, etc. It is a disease that can be transmitted to humans, so is a zoonotic disease. Dogs that drink or are exposed to stagnant water, ponds, puddles on a logging may be at risk. We are happy to discuss the need for this vaccine in your pet. Lepto may given individually or as a combination in the DHPP vaccine. Typically puppies get Lepto vaccine at approximately 12 weeks of age and is booster in 3-4 weeks, then annually thereafter.
Lyme - Lyme vaccination is recommended for dogs at risk or that have tick exposure. The vaccine is initially given to puppies around 12 weeks of age, boostered 3-4 weeks later, then annually thereafter.
Bordetella - Bordetella is given depending on boarding expectations and contact with larger canine populations, including obedience classes, dog grooming, dog shows and field trials. Vaccine can be given as early as 8 weeks of age. The Grand Rapids Veterinary Clinic recommends to oral form of the vaccine. It used to be given intra-nasally, but is generally easier and more readily accepted in the mouth. Once the oral vaccinen is given, it is generally considered effective in 3-5 days and requires an annual booster to stay current. There is an injectable form, but given initially it must be boostered in 2-4 weeks and then annually.
Cat Vaccines:
Upper Respiratory or 'Distemper' (FVRCP) - All kittens, regardless of exposure level, are recommended to have a complete FVRCP series. We recommend the initial vaccine be given at approximately 12 weeks, then boostered every 3-4 weeks, ending with the last vaccination at 16 weeks or later. Every risk level should be boostered one year after the kitten series is finished, then every 3 years thereafter.
Rabies - Rabies vaccine may be given at 12 weeks or later, then boostered at one year later, then every 3 years.
Every kitten should have a Feline Lukemia Virus (FeLv) test performed, with the option of re-testing after 16 weeks (or 60 days post first test depending on the situation) to catch any kitten incubating the virus. (i.e. barn or feral kitten tested at 6-8 weeks may test negative, but still be incubating the virus) An FeLv test is required for FeLv vaccination.
Level One Cats are isolated in their home and do not have contact with other cats.
Distemper (FVRCP) should be boostered every 3 years, depending on doctor recommendations.
Rabies vaccine is boostered every 3 years after initial 1 year booster.
An annual feline leukemia vaccination is generally not recommended, but consider other household animal lifestyles and likelihood of homeowners bringing in additional felines that could be carrying viral diseases. We consider vaccinating for the first 1-2 years of life (the most susceptible time period for kittens/young cats) as a good precaution in many situations.
Level Two Cats are not isolated to their home, are outdoors without supervision, or have other exposure situations to other cats.
Distemper (FVCRP) is boostered annually.
Rabies vaccine is given every 3 years depending on doctor discretion.
Feline leukemia vaccine is recommended as an initial 2 vaccine series beginning as early as 12 weeks and given 2-4 weeks apart, then annually. If cat to cat contact is relatively remote, the doctor may opt to vaccinate through 1-2 years of age and then discontinue, based on age-related susceptibility to FeLv.
Deworming Parasite Program
We recommend deworming puppies and kittens at 2,4,6, and 8 weeks of age and then once monthly until they are six months old. Clients should also bring in a fresh stool sample to examination.
Adult dogs that are on heartguard should have a stool sample exam done yearly and then dewormed at least twice yearly with a broad spectrum dewormer.
There are products available for deworming such as Drontal for cats and Drontal Plus for dogs that allow you to deworm with one simple dosage and that will take care of most parasites.
At Grand Rapids Veterinary Clinic, we believe whole-heartedly in pet wellness care, of which vaccinations are an important part. By keeping your pet current on vaccinations, you are taking a big step in ensuring your companion's health. For more information or to schedule an appointment, call our Grand Rapids office today at 218-326-0395, our Longville Office at 218-363-3343, or request an appointment online.